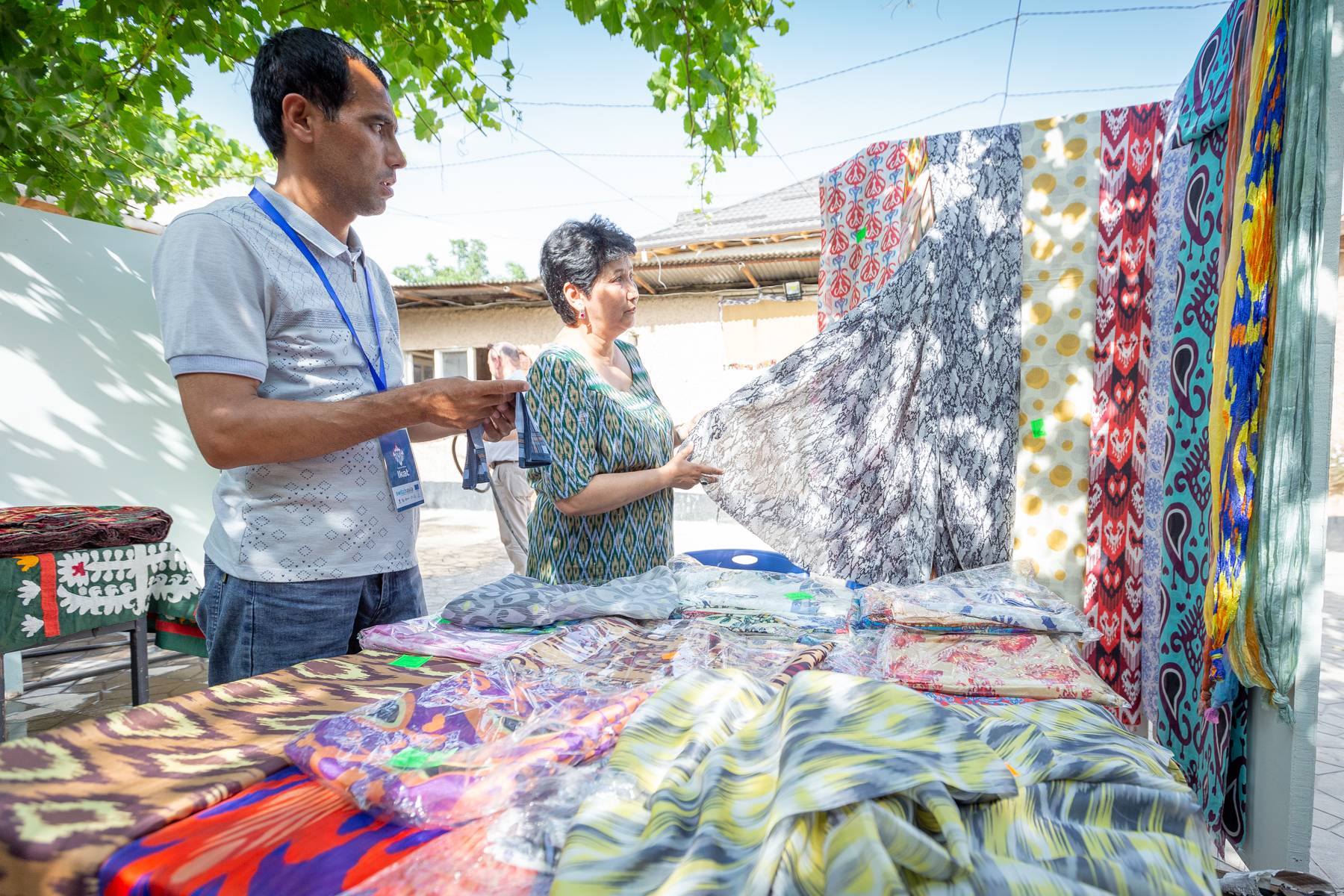 Reviving Uzbekistan's and Tajikistan's Sustainable Ikat and Silk
The Challenge
Tajikistan and Uzbekistan are linked by a long and common history, culture and religion. Since ancient times, the silk production and processing traditions of Uzbekistan and Tajikistan have been shaping the Central Asian region making the two countries an integral part of the "Great Silk Road". Silk has remained the trademark of many contemporary home-grown designers and fashion brands in Uzbekistan, who use Central Asian Ikat, a unique textile, which is patterned by dyeing the threads before weaving. Having been separated from Western markets for over 200 years, high-end fashion houses start showing increasing interest in the unique, high quality designs and color combinations, of the Ikat from Central Asia. While Uzbekistan inherited few silk production sites, the Tajik sericulture has almost vanished in view of the turmoil following dissolution of the USSR and the long-lasting civil war. Due to the continuous emigration and destruction of traditional textile production, much of the knowledge about traditional sericulture and ikat textiles was largely lost. In addition, industrial textile production processes, especially dyeing methods, have replaced traditional textile production in Tajikistan and Uzbekistan contributing to pollution of the environment and water sources of communities. 
The Objectives
Promotion of sustainable growth along the Great Silk Road in Central Asia;
Contributing to the revival and upgrade of local silk and Ikat value chains; 
Integration of sustainable production approaches in an ethically and environmentally friendly way;
Strengthening cross-cultural dialogue between Uzbek and Tajik societies;
Creation of new education and employment opportunities, safeguarding ancient silk and Ikat production techniques, and developing innovative sustainable design; 
Enhancing recognition of Central Asian sustainable silk and ikat products in the international market. 
The Way Forward
Sustainable production issues and improvement potentials along the Ikat value chain are identified, a regional strategy is developed;
Local and cross-regional relationships for building new supply chains are established;
Supportive training and advisory capacities of local educational/vocational institutions are enhanced: Tailored training modules launched; 
Ikat products aligned with sustainable performance criteria; 
Policy dialogue is initiated; product labelling is introduced;
Awareness among local and international buyers of Ikat on sustainable consumption and production of Uzbek/Tajik silk/Ikat products is increased.
Relation to European Green Deal, Circular Economy and Climate Change 
The project addresses sustainable development as a key EU priority based on balanced economic growth and price stability, a highly competitive market economy with full employment and social progress, and environmental protection. Further, it will foster circular manufacturing practices in line with the EU's upcoming extension of the Circular Economy Action Plan by introducing zero waste techniques in Ikat manufacturing. It is further in line with the EU Green Deal ambitious plan to boost climate neutrality, for instance by promoting sustainable consumption and production practices. The project has synergies with two policy focus areas of the European Green Deal:
Sustainable industry: stimulate the development of new markets for climate neutral and circular products. 
Eliminating pollution: keep waterstreams clean and preserve biodiversity in lakes, rivers and wetlands.
Sustainable product policy: support  the  circular  design  of  all  products and reduce waste significantly, especially in resource-intensive sectors such as the textile industry.
Duration:
2020-2023
Total Budget:
EUR 2.012.796,40 (EU contribution: 80%)
Contact Detail:
Burcu Tuncer 
adelphi Research gGmbH
Lead Partners