Promoting a sustainable hospitality industry inclusive of native entrepreneurs
Bhutan, situated in the eastern Himalayas, is a unique tourist destination. It is popular, not just for its beautiful landscapes and lively culture, but also for its steadfast dedication to protecting its pristine environment and distinct cultural history. The Royal Government of Bhutan (RGoB) is, as manifested with the increased sustainable development fee (SDF), reluctant to open up to mass tourism, despite the fact that it was the country's second-largest source of revenue before the pandemic. This deliberate decision of RGoB is known to have been made to safeguard the country's ecology and culture from the potentially negative effects of mass tourism. The tourism industry follows the unique strategic approach of "High Value Low Volume".
The country, renowned as the carbon-negative country, has lush forests covering 70% of its entire land area as a result of its unique economic growth philosophy known as Gross National Happiness (GNH). For instance, the Bhutanese constitution mandates a minimum of 60% forest coverage for all times to come. Moreover, the nation has ten wildlife sanctuaries, parks and reserve that cover around 51% of its territory which are linked by ecological corridors where human activities are limited.
Tourist operations used to be concentrated in the western part of the country, spanning only four to five districts, such as Paro, Thimphu and Punakha. Identifying and promoting the less-known tourist potential in the eastern and southern districts through engaged rural producers and hospitality service providers, is one of the objectives of the EU funded SWITCH-Asia SHINE project.
SHINE has been making an effort to promote tourism attractions in the target districts, and at the same time, to improve the quality and quantity of the agri-food products, handicrafts, and accommodation and culinary services. Furthermore, it has been invested in empowering local communities and entrepreneurs with the enhanced business opportunities and improved design skills, proposing and promoting sustainable and inclusive hospitality industry programmes, documenting tourism attractions as well as the indigenous recipes, and establishing online platforms for trades between rural producers and buyers. In recent events, SHINE also conducted a Cooking Training on Indigenous Food and a series of E-Commerce Training sessions for rural producers and service providers in the eastern districts of Bhutan.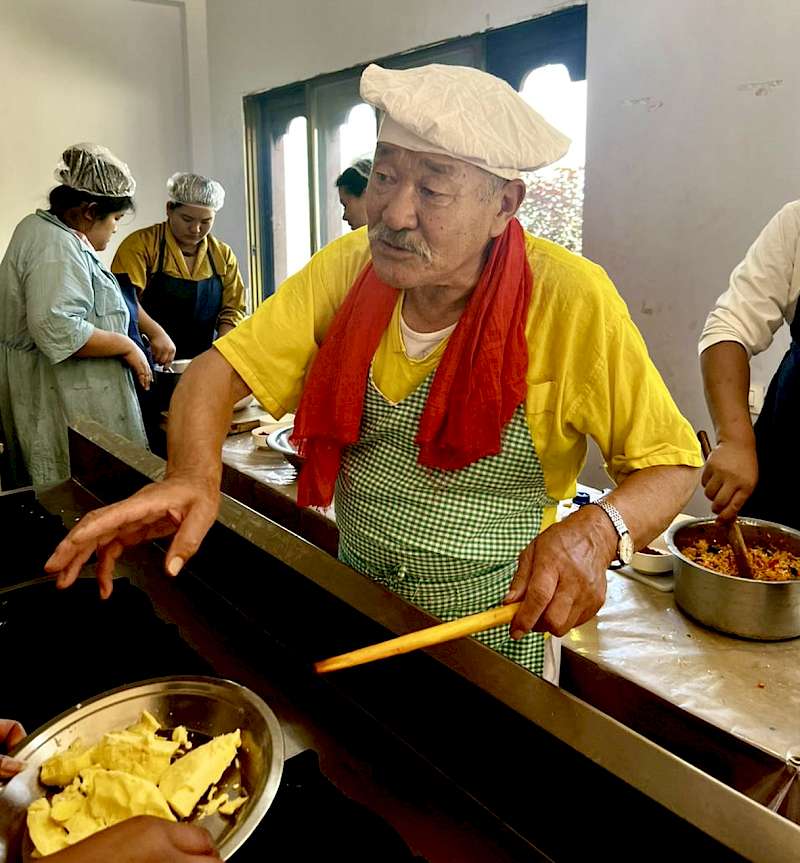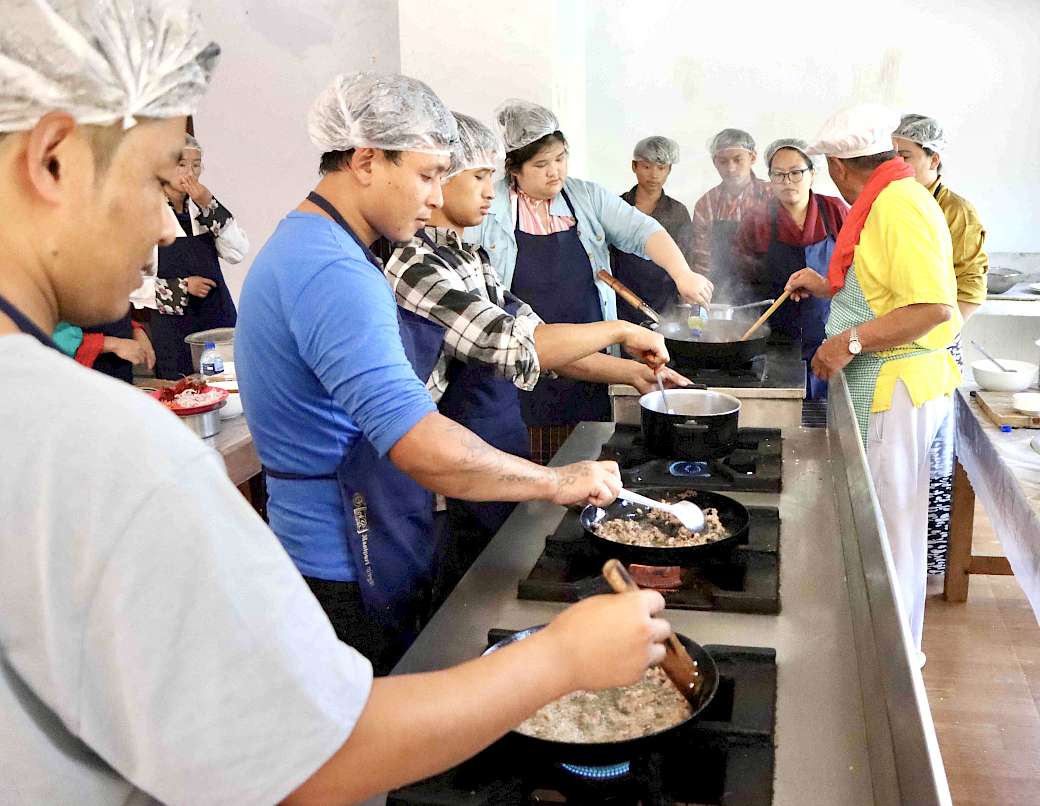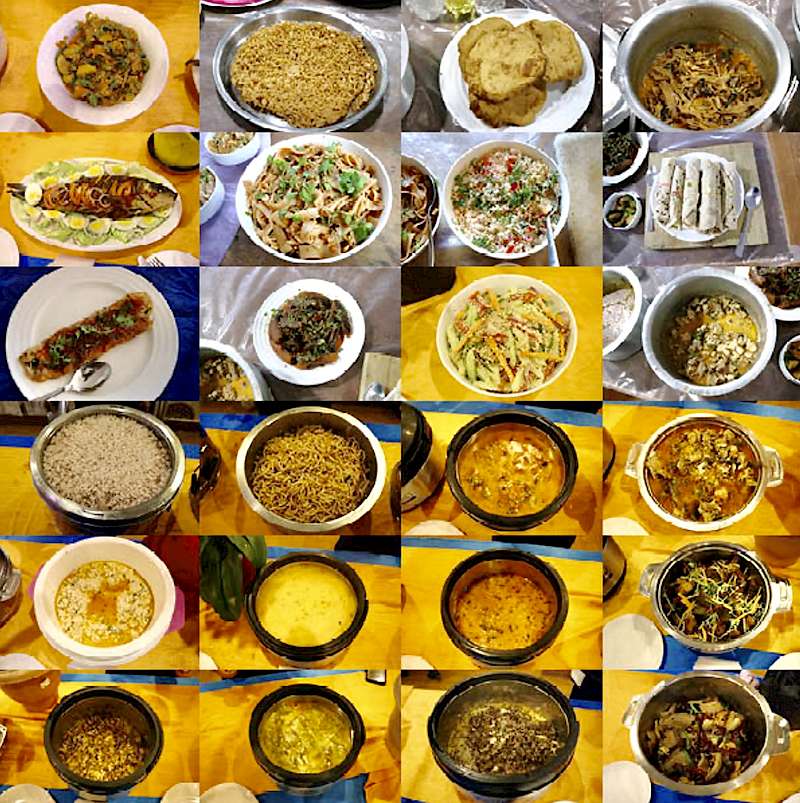 In the Cooking Training on Indigenous Food held from 11th to 13th October, 2023 in Trashigang, 20 professional cooks and chefs from local hotels, resorts and village homestays were invited to learn the knowledge and skills to prepare diverse and authentic Bhutanese cuisines using indigenous ingredients. The training was carried out in cooperation with Department of Tourism, under the Ministry of Industry, Commerce and Employment. Through a combination of practical and theoretical education, participants were introduced to 30 different indigenous dishes, explored the historical and cultural significance of Bhutanese culinary traditions, and shared traditional recipes from their regions. Participants expressed their enthusiasm for this training, acknowledging its potential to offer tourists more authentic dining experiences while preserving their unique cultural heritage. The success of this programme was acknowledged by local governments and district representatives, who graced the certification awarding ceremony. The programme was met with great appreciation, and participants expressed their commitment to passing down their local recipes to younger generations.
Simultaneously, SHINE organized a series of e-commerce trainings in Trashigang from 12th to 13th, and in Pemagatshel from 16thto 17th, October, 2023. These training sessions equipped 120 rural producers of agricultural and handicraft products, as well as tourism packages and accommodations with the skills to effectively use the mobile app and website developed by the SHINE project, aimed at facilitating marketing and sales.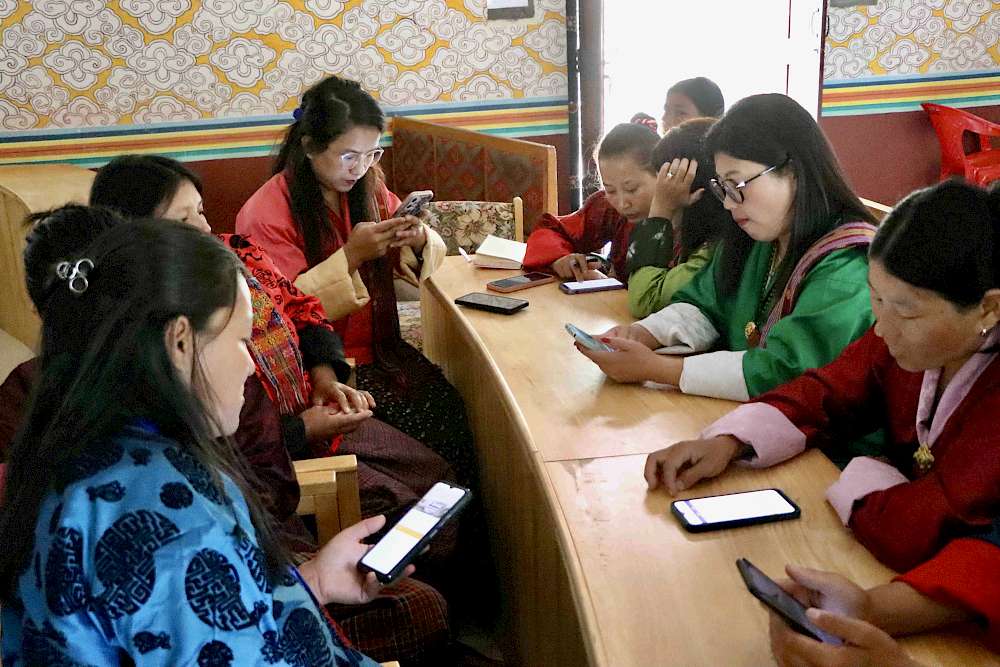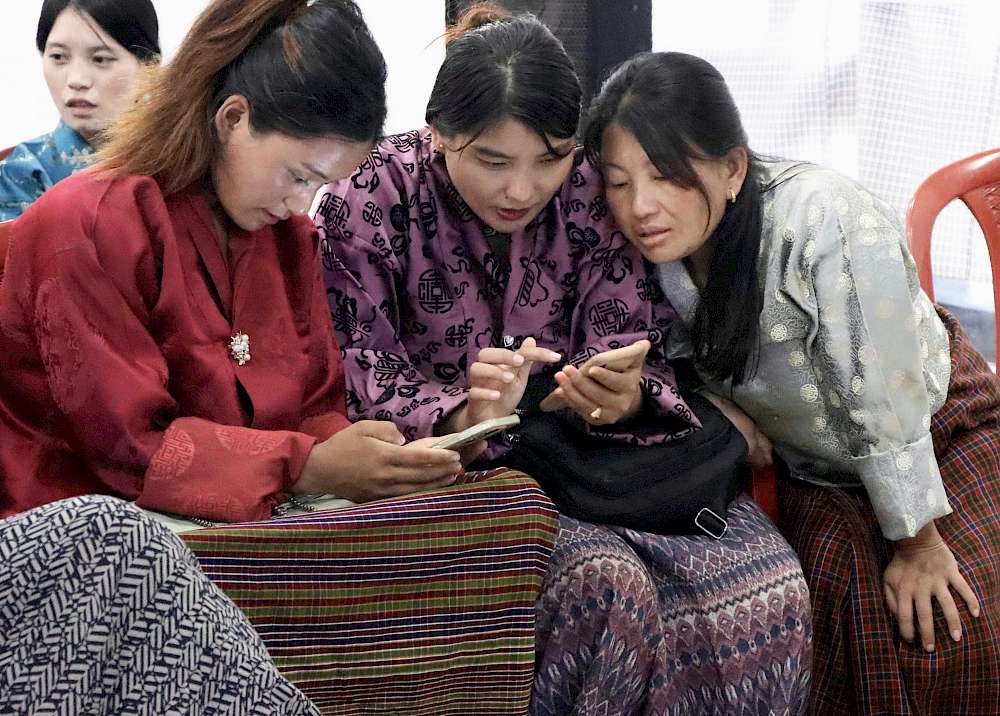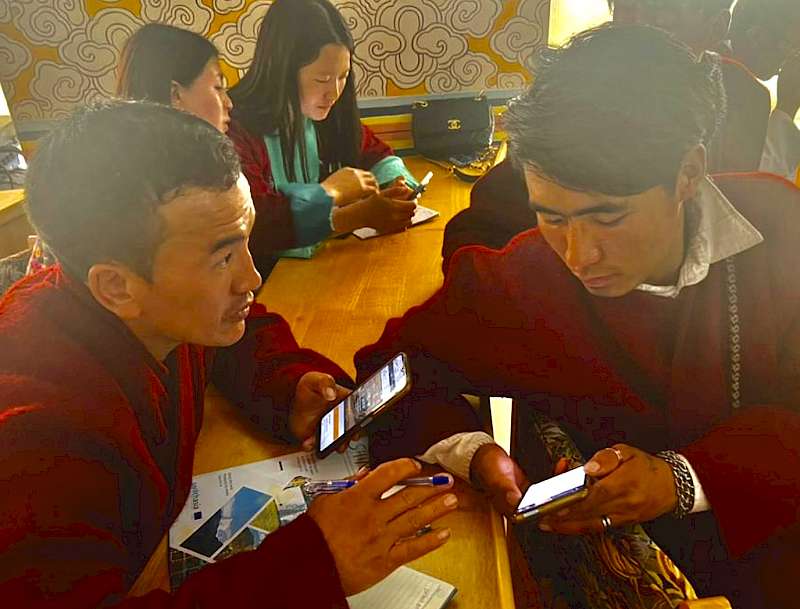 Diverse vendors, including individual farmers, farmers' groups, cooperatives, handicraft producers, non-timber forest products collectors, homestay owners, and hotel proprietors, were invited. The training covered a wide range of topics, from the basics of e-commerce and online tools to vendor registration, product uploading, pricing, customer interaction, and advanced features. The participants were also provided with tips for taking high-quality photographs of their products and facilities. The SHINE project has created online messaging groups for each district to offer continued guidance and support.
Participants showed great enthusiasm throughout the training, eagerly anticipating the official launch of the e-commerce platform, which is expected to enable them to reach out to the mainstream consumers. The local government leaders and participants expressed their excitement about the opportunities the SHINE e-commerce platform would create for the community people. It is not only a means to trade conveniently but also a way to promote the distinctive culture and products of their regions, thereby boosting tourism in eastern Bhutan.
The online platform will link our local producers with the tourism sector through the tourism value chain. It will encourage them to use their local produce, generate income for farmers and enhance their livelihood, ultimately narrowing the gap of tourism disparities between eastern and western regions, said Tshering Wangmo, Project Coordinator, SHINE Project.
In the remaining 6 months of its implementation period, the project will continue with its initiatives in promoting sustainable and inclusive tourism development in Bhutan, empowering local entrepreneurs, and preserving the country's rich cultural and culinary heritage. It will implement a number of appropriate technology solutions customized to the needs of the local producers, in order to improve the quantity and quality of the agri-food products and handicrafts. The series of e-commerce training and cooking training in the remaining target districts will also continue.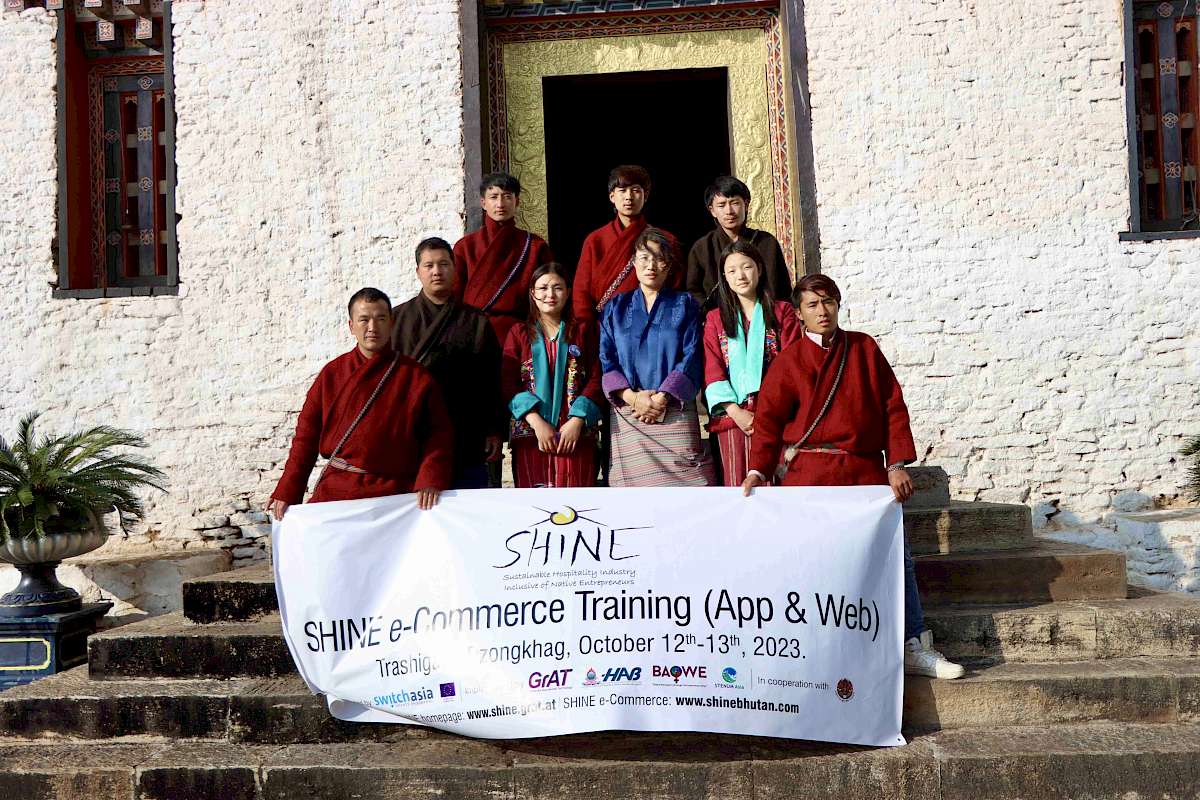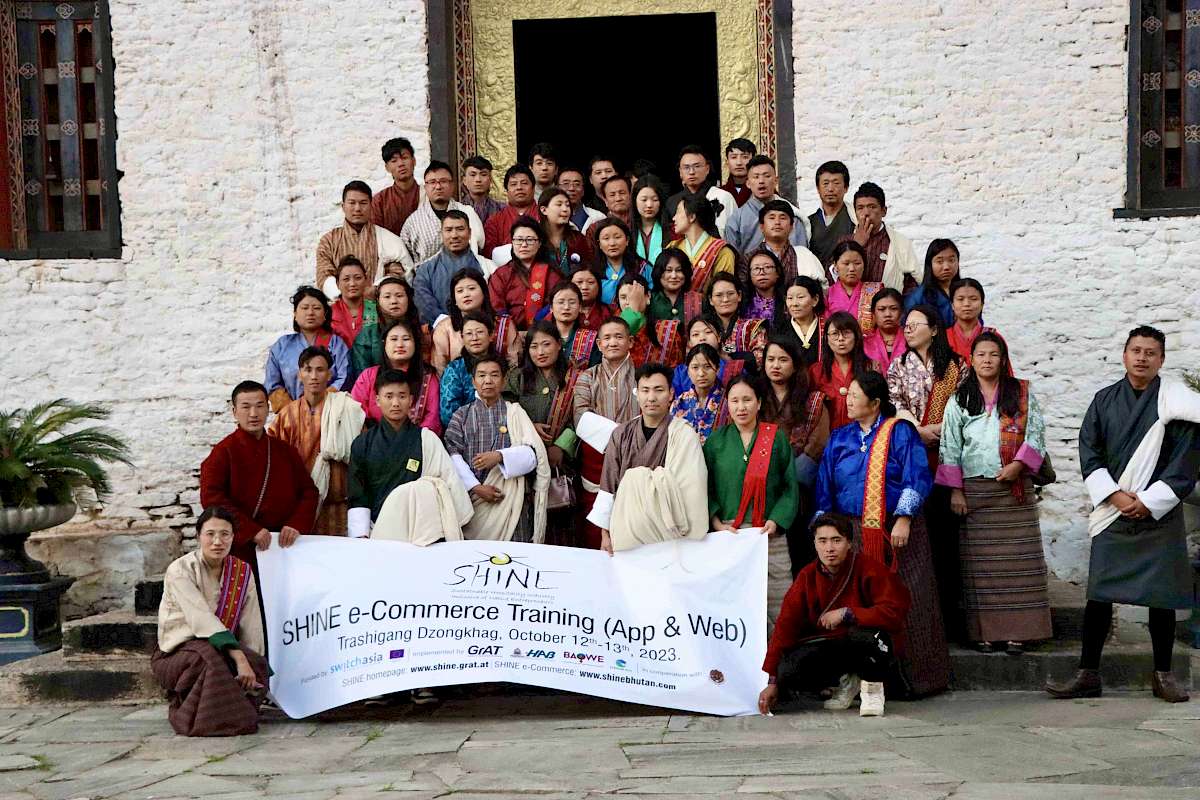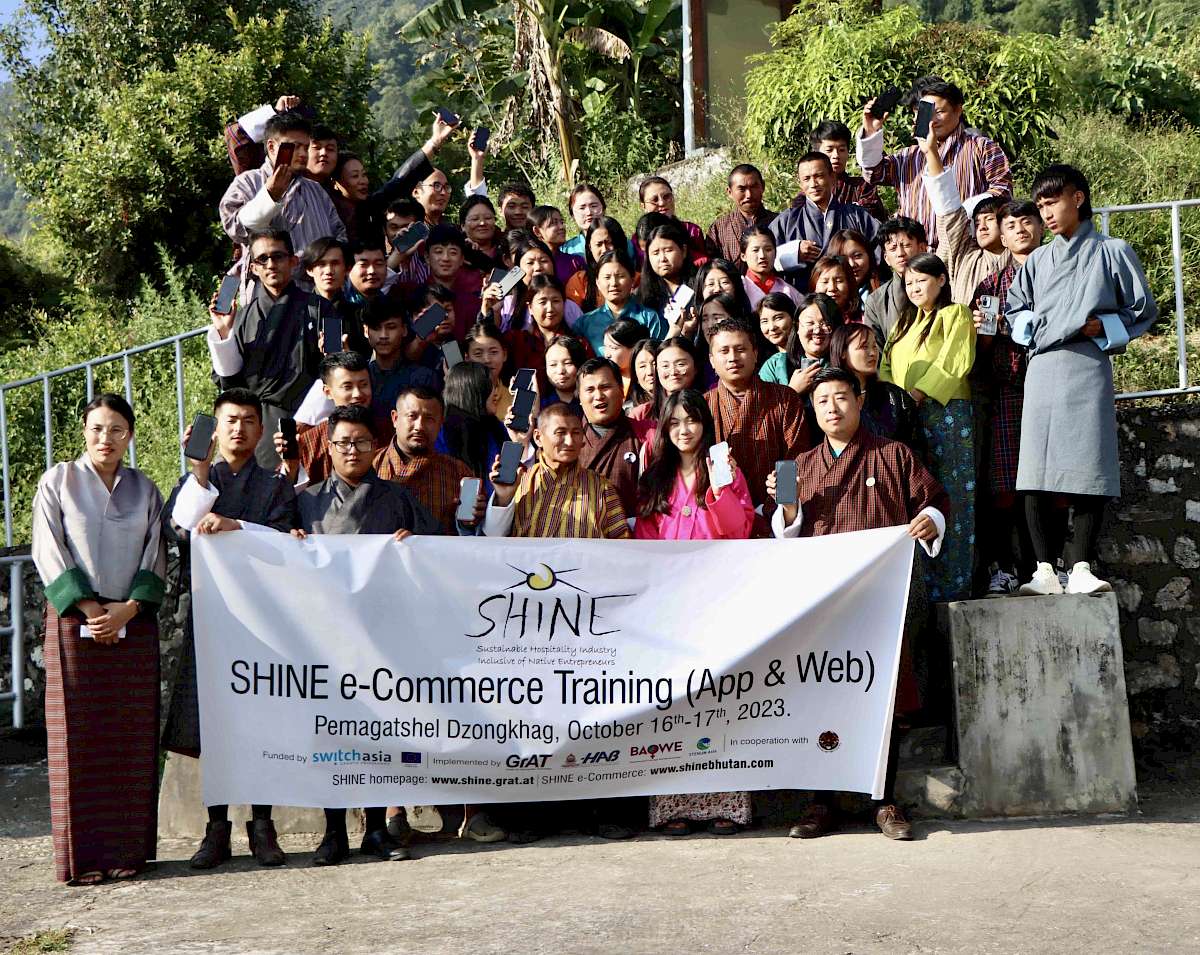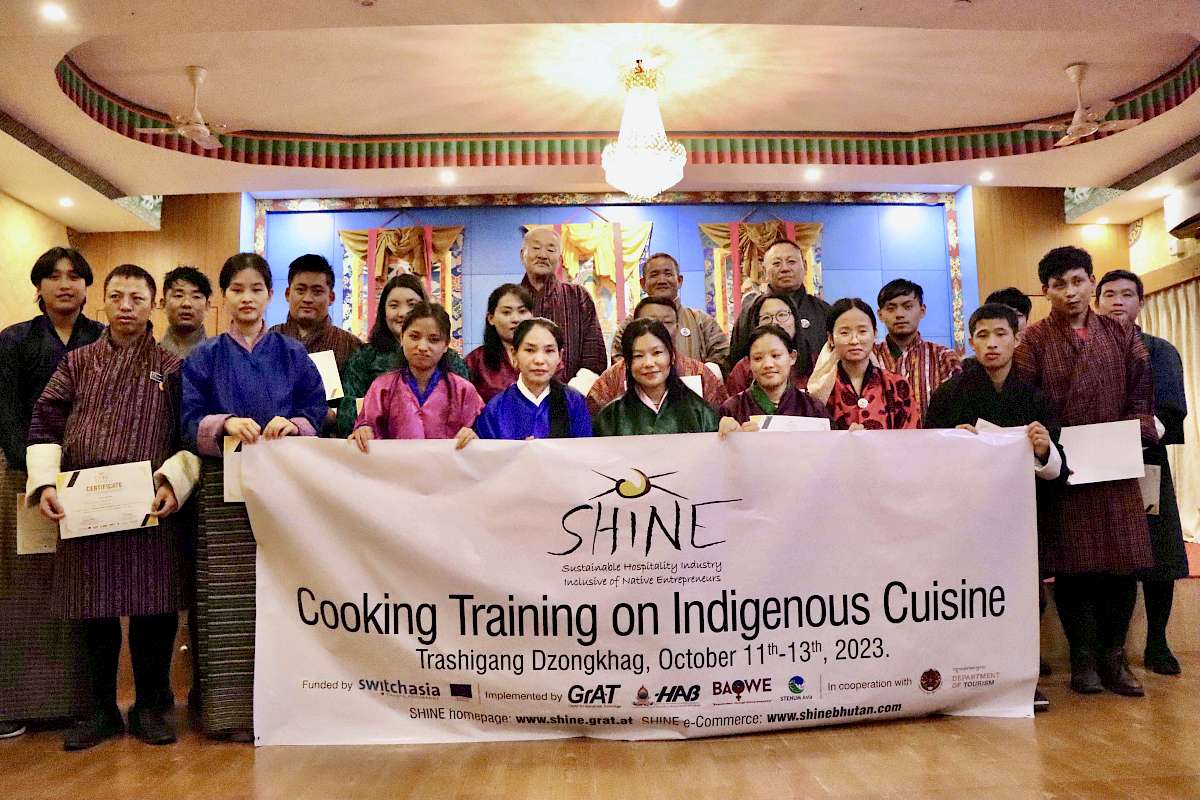 Media coverage: TheBhutanLive I ANI News
Photo credits: SWITCH-Asia SHINE Project