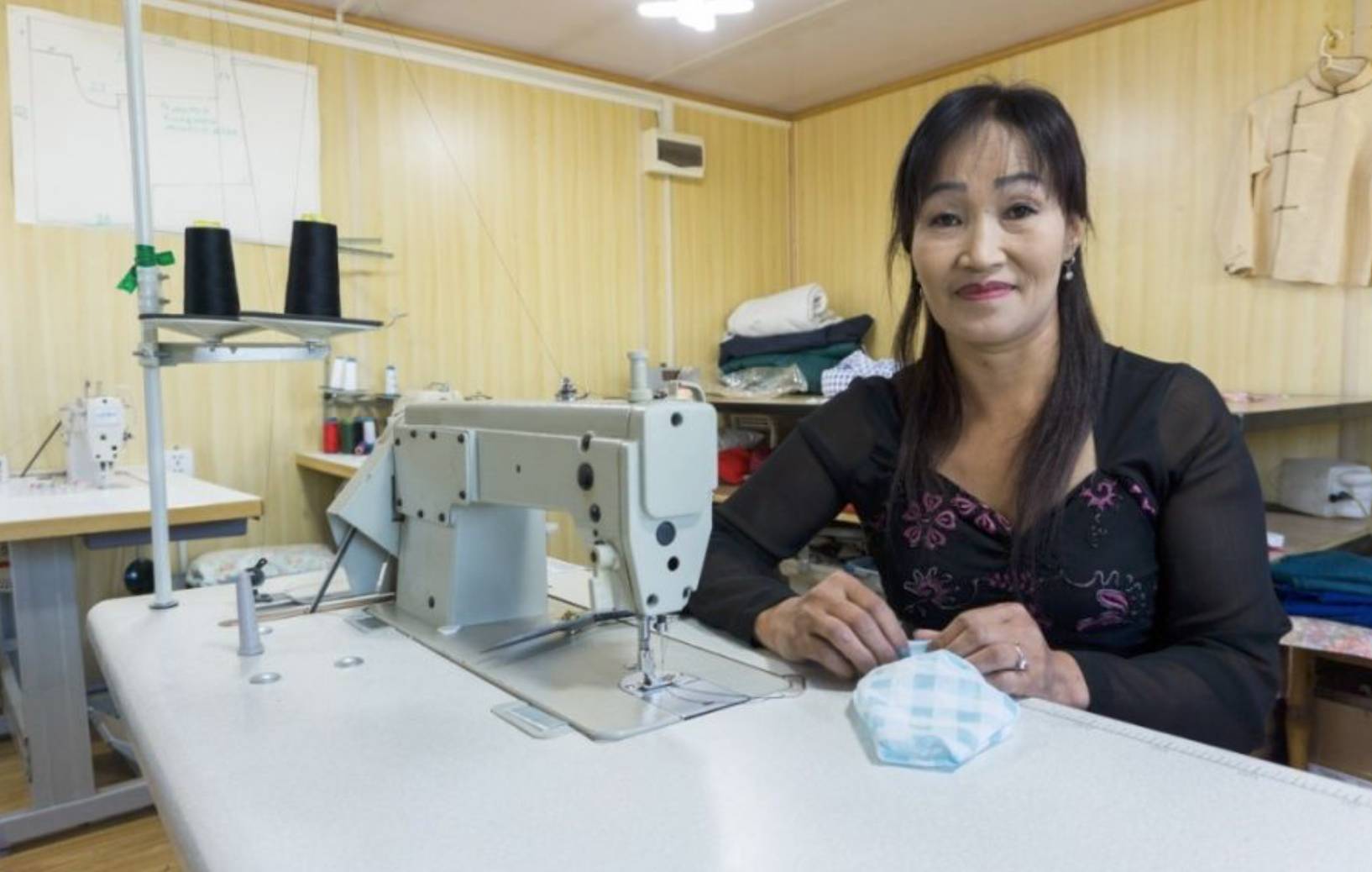 Switching on job creation
We were not getting any work because of the COVID-19 restrictions and so making these masks gave us extra income which was a tremendous help, says Bayarzol, a 43-year-old woman from Bayankhoshuu, the most polluted area of Ulaanbaatar city. 
The livelihoods for women in Mongolia were hit especially hard when schools and many jobs in the service industry were shut down to prevent the spread. Bayarzol is just one of many women in Mongolia who have either lost their income or their business due to the COVID-19 outbreak, leaving them struggling to provide for their families.
Fortunately, Mongolia has yet to see transmissions of the novel coronavirus, however, the strict restrictions brought on with the border closures, as well as school closures, to prevent the spread of the virus has devasted both the rural and urban economies across Mongolia. 
"Mongolia enjoyed a solid economic recovery in the past three years, but the COVID-19 outbreak presents a significant challenge due to the impact on global and regional economic conditions," explained ADB's Country Director for Mongolia Pavit Ramachandran in a recent press release posted on their website. 
To bring relief to at-risk-families People in Need, INGO, launched the 'Clean Hands Project' - a coalition of private and public sector partners – and has provided hygiene, nutrition, and educational kits to more than 2500 households, over 8000 children and more than 950 single fathers and mothers.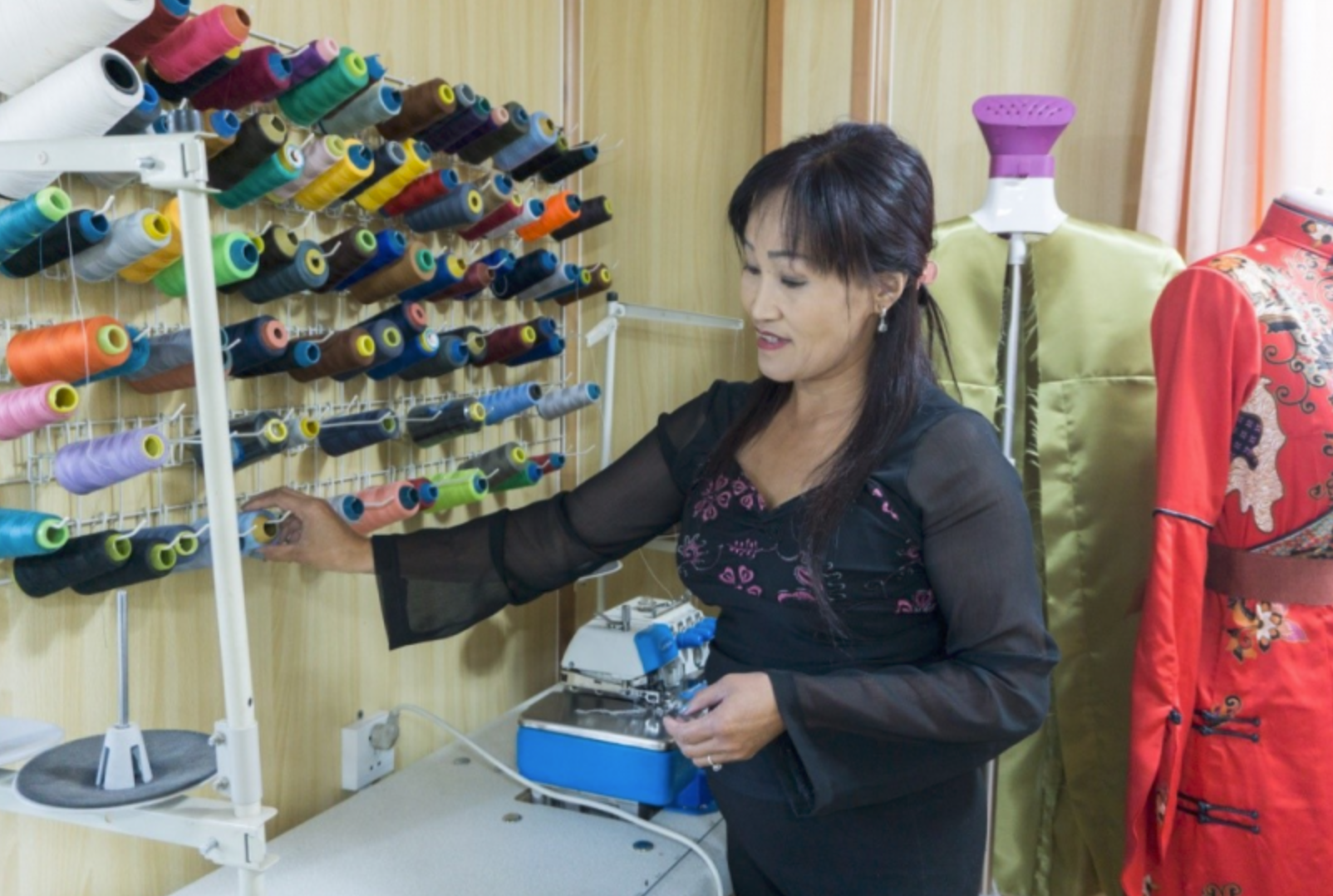 With the support from the EU funded Switch Off Air Pollution Project and the project-lead Geres, PIN was able to procure 7,000 locally made masks to be added to the kits. During COVID-19 masks are compulsory to help prevent the spread of the virus and in Mongolia, masks are a necessity to protect against the heavy air pollution.  
We were proud to support these women by finding a way to help bring them additional income. Through our work we strive to find innovative ways to address development challenges, particularly during these difficult times in Mongolia, said Beatriz Maroto Izquierdo, Country Director of Geres Mongolia.
In partnership with the local NGO, "Narnii Huuhduud Muruudul" (NHM) and individual sewers that were recipients of PIN's project, 7,000 masks were made locally. NHM's mission is to provide education, employment and training, community outreach and infrastructure development to communities of Songino Khairkhan and surrounding districts.
The sewing center took in Bayarzol, trained, and employed her as a seamstress to make colorful Mongolian traditional clothing (deel), tote bags with Mongolian design and patterns, fashionable bomber jackets, and now masks. 
"I have 5 children along with my husband. Since schools have been closed my children are home all day which means they are eating more, using the electricity more and the bills are mounting," continues Bayarzol, as she sits at one of the sewing machine desks.
"Before COVID-19 restrictions, I earned a salary and I managed to sew Mongolian traditional dresses after work as I used to get many personal orders. Tsagaan Sar, Naadam and Graduation ceremonies is when I usually get most of my orders," she explained.
"But after the restrictions due to the coronavirus pandemic, I lost all my orders and side income due to holiday and graduation cancelations. Most of my salary from work now goes straight to pay off my loans. It has been an extremely tough time for me financially, as well as mentally." Bayarzol is the sole provider for her family of 6, like her, many of the other women are also fully supporting their families. Such is the case with Buyandelger, a 40-year-old woman who has developmental disability and whose family depend solely on her income.
Buyandelger joined the sewing center project back in 2016 when it first opened, her developmental disability initially prevented her from learning how to use the sewing machine. "I am the only one who works from my family, I have no other choice. I have worked here since the beginning and I could barely step on the sewing machine foot pedal because of my disability. It took me an awfully long time to learn how to work the sewing machine," shares Buyandelger.  "My husband underwent a back surgery 3 years ago and he is not able to do any type of labor work", continues Buyandelger. When the order for the masks came in with a deadline, we all got to work at once to deliver the masks for the kit. It helped us a lot and I'm also incredibly grateful for Ariungerel, the Operations Manager and the Veloo Foundation for helping us during these tough times."
Stories like Bayarzol's and Buyandelger's can be echoed throughout Mongolia, especially during these difficult and uncertain times.
Support to employment in these difficult times, remains a priority more than ever in Mongolia. It's never been more important for businesses, government agencies and non-profits to find creative ways to create new modes of work or keep jobs in the country, said Pierre-Yves Lucas, EU Cooperation Team Lead.
Through the Switch Off Air Pollution Project, Geres and PIN, along with its partners from the Mongolian National Construction Association and the Building Energy Efficiency Center, will continue to find ways to bring jobs back to the construction sector in Mongolia. 
Original article featured at Montsame Mongolian News Agency