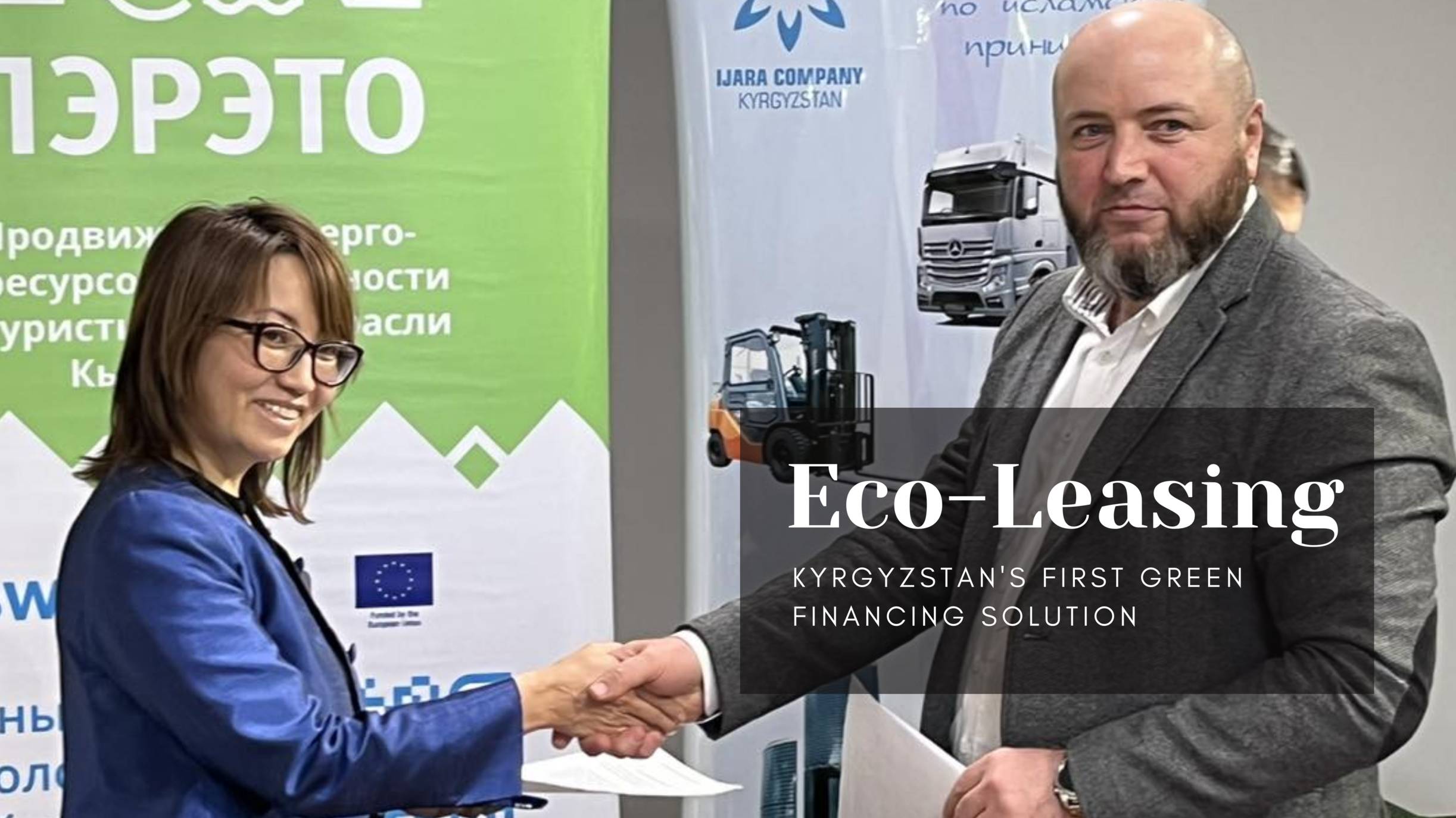 Making green technology accessible
The EU funded SWITCH-Asia PERETO project has joined forces with Ijara Company, a leasing company in Kyrgyzstan, to develop and launch an innovative financing instrument called "Eco-leasing." Ijara Company, committed to environmental, social, and governance (ESG) principles, has emerged as a trailblazing leasing company in the country by introducing this green financing solution.
The eco-leasing scheme provides individuals and businesses with the means to finance the installation of cutting-edge green technologies, enabling them to reduce their environmental impact, energy consumption, and greenhouse gas emissions. This comprehensive leasing programme encompasses a wide array of eco-friendly solutions, including heating and ventilation systems, solar collectors, biogas plants, heat pumps, energy-efficient technologies, resource-saving technologies, and electric vehicles.
By making green technology more accessible to businesses and individuals seeking sustainable leasing options, the eco-leasing initiative fosters a greater adoption of environmentally friendly practices. The programme supports both USD and KGS currencies, with lease amounts ranging from USD 5,000 to 300,000 or KGS 450,000 to 2,700,000. Lease terms vary from 6 to 60 months for USD-based credit and 6 to 36 months for KGS-based credit.
This eco-leasing offering marks the fourth green financing product developed through the SWITCH-Asia PERETO project, in collaboration with Kyrgyz banks and financial institutions. The project aims to assist small and medium-sized entrepreneurs in the hotel, restaurant, and café (HoReCa) sector, offering them environmentally friendly financial solutions to transition to highly efficient technologies. The DosCredo Bank now provides the "Eco-Tourism" financing scheme, while the Commercial Bank Kyrgyzstan offers the "Green Tourism" finance option. Bailyk Finance has introduced the "Green Loan for Renewable Energy Technologies."
Moving forward, the PERETO project will continue to engage with banks and financial institutions to promote sustainable tourism practices and facilitate the adoption of green technologies in Kyrgyzstan's tourism industry. By empowering businesses and individuals to embrace environmentally responsible solutions, PERETO and its partners are driving positive change and contributing to a greener future for the country.
Eco-leasing plays a crucial role in fostering sustainable development by encouraging the use of eco-friendly technologies. By making these technologies more accessible and affordable through leasing, it enables businesses and individuals to adopt greener practices without incurring significant upfront costs. Moreover, eco-leasing contributes to reducing greenhouse gas emissions, conserving energy resources, and promoting a cleaner environment. It supports the overall transition to a more sustainable and climate-resilient economy.
For more information about Eco-leasing and other sustainable financing options, visit PERETO Business Information