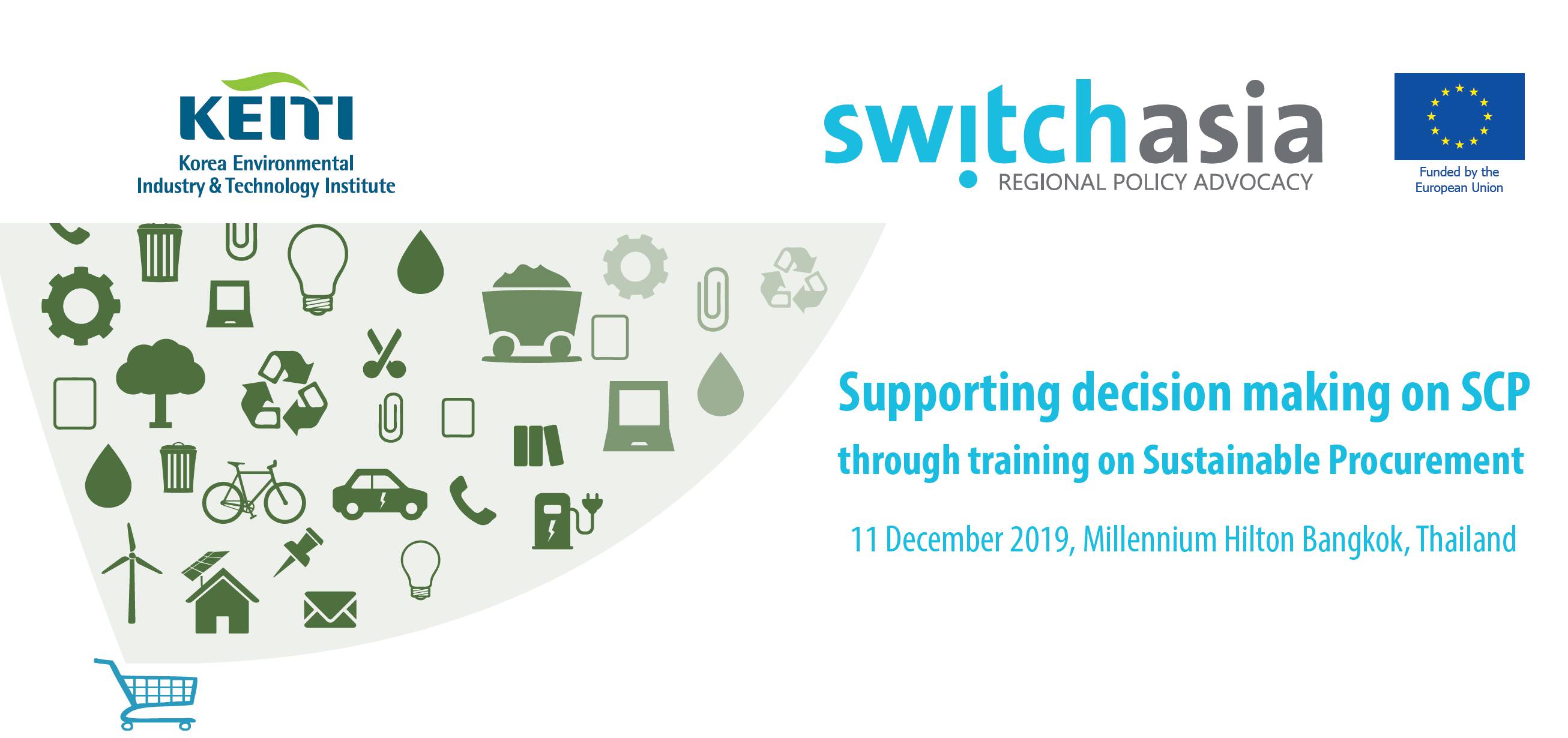 Type: Training
Location: Bangkok
Organizer: RPAC
Training on Sustainable Public Procurement (SPP)
Background
Sustainable Public Procurement (SPP) has been one of SWITCH Asia's priority topics since the beginning of the programme. Regional, sub-regional and national activities have been carried out by the SWITCH-Asia Regional Policy Advocacy Component (RPAC) at both political and technical levels. These activities, combined with an ecosystem of other activities and programmes in SPP (supported by the EU, the UN and other international organizations in the region), have led several countries to developed sustainable public procurement policies with a focus on environmental issues and national governments to increasingly recognize public procurement as a tool to incentivize the development of markets for green products and services in a 'greener' economy.
This regional Capacity Building on Sustainable/Green Public Procurement, organized by RPAC in partnership with the Korea Environmental Industry & Technology Institute (KEITI), is aimed at contributing to further achievements on SPP/GPP in Asia and enabling the adoption of those practices by all countries in the region, without "leaving no one behind." This event, which will take place back-to-back with a series of other events at the International Conference on Sustainable Energy and Green Technology 2019 from 11 – 14 December 2019, is a continuation of the SWITCH-Asia RPAC on-going training on SPP in the region, and it is part of the continuing policy dialogue discussions from Asia Pacific Green Public Procurement Workshop in Seoul, Republic of Korea in June 2019; and the 2019 Southeast and Northeast Asia Policy Dialogue and Training on "Harmonizing SPP practices and Measuring SPP benefits" taking place in Suzhou, China, in October 2019.
What are the objectives of this event?
The main objective of this capacity building is to ensure that Asia countries build capacity on the institutionalization of SPP, including SPP criteria, guidelines, certification systems, reporting, etc. Other objectives include:
To facilitate achievement of SDG Target 12.7 (Implementation of Sustainable Public Procurement)
To facilitate achievement of the SDGs.
To provide governments with a tool to improve their people's quality of life.
To include all countries in the region without "leaving no one behind" in relation to SPP.
Who is invited?
This training is intended for policy makers, practitioners, and experts leading the design and implementation of public procurement in Asia.
Contact details: 
Mr. Mushtaq Ahmed Memon
Regional Coordinator for Resource Efficiency
UN Environment, Regional Office for Asia and the Pacific
Project Manager
Regional Policy Advocacy Component
(SWITCH-Asia – the European Union funded programme)
Email: [email protected]