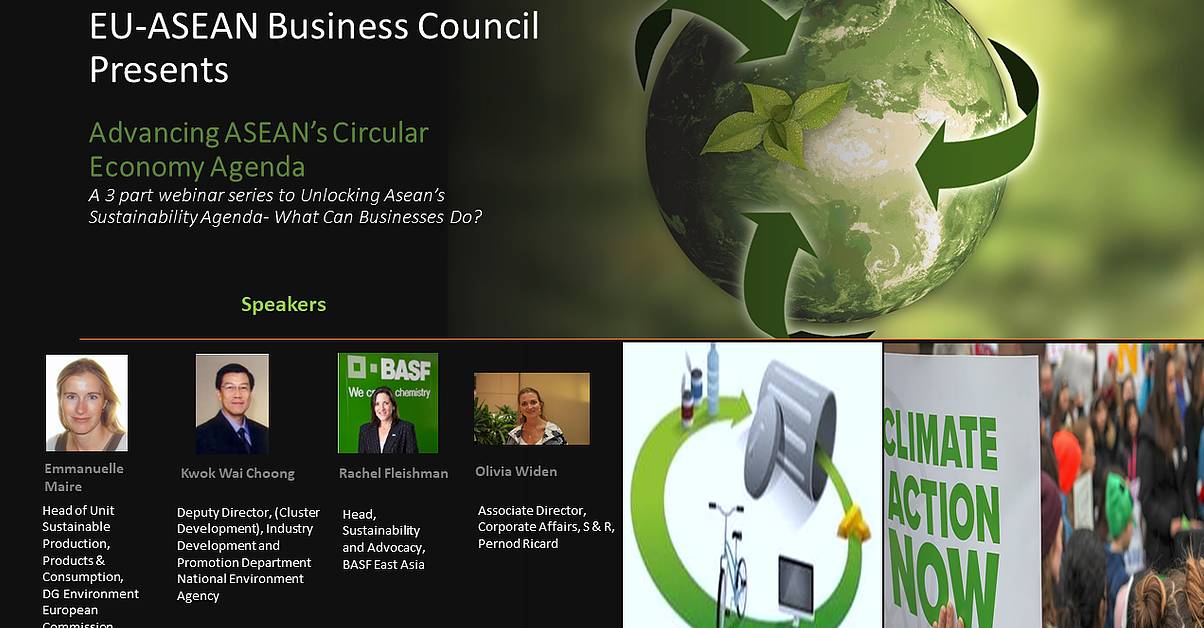 Location: Online
Organizer: EU-ASEAN Business Council
A 3 part webinar series to unlock ASEAN's Sustainability Agenda - What can businesses do?
The effects of climate change, such as rising sea levels and extreme weather events are posing a threat to carrying on with business as usual. ASEAN is no stranger to this trend. Already, cities in Southeast Asia, including Jakarta and Manila, are facing significant challenges in combatting climate change. To overcome these challenges and continue to develop sustainably, there is a growing need for ASEAN leaders to adopt a circular economy approach, where resources are reused repeatedly.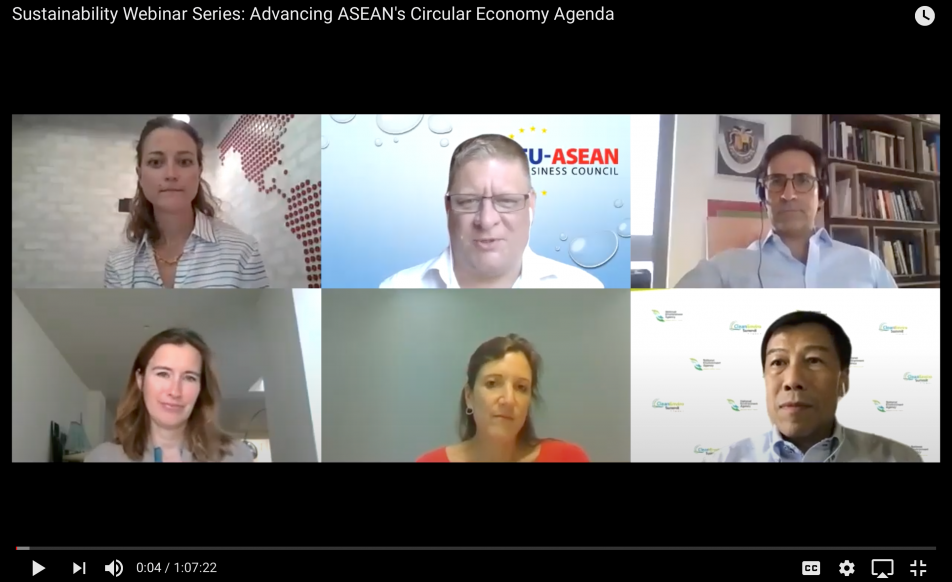 List of Panellists

Emmanuelle Maire, Head of Unit Sustainable Production, Products & Consumption, DG Environment European Commission

Emmanuelle Maire works at the European Commission in Brussels, in the Directorate general for Environment (DG ENV). She heads the team responsible for Sustainable Production, Products and Consumption. The core activity of the team is to support the transition to a circular and green economy in the European Union. She held several positions before that with the European Commission, being Head of unit for multilateral environmental cooperation (2015-2018), and Head of Unit for the EU Internal market in aviation (2010-2015).

Kwok Wai Choong, Deputy Director, (Cluster Development), Industry Development and Promotion Department National Environment Agency

Kwok Wai Choong joined the Ministry of the Environment, Singapore in September 1989 as an Operations Engineer at a Waste-to-Energy plant (WTE). He then moved on to the design, construction, commissioning and operations of Singapore's WTE plants, including the Tuas South WTE Plant, which is Singapore's fourth and the largest WTE plant in Southeast Asia. Wai Choong subsequently participated in overseas consultancy work, as well as worked on policy papers that helped set up the regulatory framework, which facilitated the successful award of the 1st Design, Build, Own and Operate contract for the development of the 5th WTE plant in Singapore. In 2005, he was appointed Head, Training and Development at the Singapore Environment Institute under the National Environment Agency (NEA).

Rachel Fleishman, Head, Sustainability and Advocacy BASF East Asia

Rachel Fleishman leads the Sustainability and Advocacy functions for BASF in Asia Pacific. In this pursuit she supports all BASF functions and business units to deliver on the corporate purpose - We Create Chemistry for a Sustainable Future. Her work furthers and localises BASF global commitments in the areas of zero-carbon growth, circular economy, human rights, and delivery of sustainable solutions to customers across a wide range of industries. She also coordinates advocacy across the region, leveraging global knowledge to advance business goals in a wide variety of markets. Prior to joining BASF, Ms Fleishman held management positions at several government, business and non-profit organisations. She holds a BA from Tufts University, an MA from the University of Maryland, School of Public Affairs and an MBA from Kellogg School of Management, at Northwestern University. Ms Fleishman has a longstanding engagement in climate change issues and serves as a Senior Fellow at the Center for Climate and Security in Washington, D.C.

Olivia Widen, Associate Director, Corporate Affairs, S & R Pernod Ricard

Olivia Widen, Associate Director for Corporate Affairs, S&R, at Pernod Ricard Asia, supports the Group's advocacy and sustainability and responsibility (S&R) functions in the region. Leading Pernod Ricard's new 2030 S&R roadmap in Asia, she is in-charge of furthering and localising its implementation in order to deliver on the strategy's purpose – We bring good times from a good place, to create a more convivial world, a world without excess. She also coordinates advocacy across the region, with 15 years of experience working and living in Southeast Asia. Prior to joining Pernod Ricard Asia, Olivia led the British Chambers of Commerce in Singapore and in Cambodia, as well as holding the position of Country Director for the UK's Department for International Trade in Cambodia. A dual Swedish/Spanish national, Olivia holds an MSc from the London School of Economics and a BA from the School of Oriental and African Studies, both from the University of London.